Biography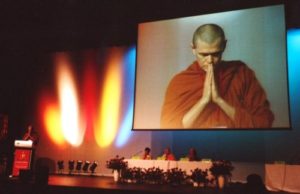 Bhante Sujato, also known as Ajahn Sujato, was born (Anthony Best) in Perth and raised in a liberal Catholic family. After dropping out of University he played music, notably in the indie folk-pop band Martha's Vineyard. In 1992 he travelled to Thailand, ostensibly as a tourist, but actually in search of a new direction. He entered an intensive meditation retreat at Wat Ram Poeng in Chieng Mai, after which he knew that this would be his path.
A year later, he ended up at Wat Nanachat, where he took novice (samanera) ordination and, on May 5, 1994, full ordination as a bhikkhu in the forest lineage of Ajahn Chah. In Thailand, he stayed mainly at Poo Jorm Gorm, a remote hermitage attached to Wat Pah Nanachat. From the little-known Thai monk Ajahn Maha Chatchai of Wat Phleng in Bangkok, he learnt the practice of Metta or loving-kindness meditation (see the book 'A Flower Called Metta'), which still forms the backbone of his own meditation and teaching. In 1996 he returned to Perth, and spent three years at Bodhinyana Monastery practising under Ajahn Brahm, who he considers his primary teacher. He left Bodhinyana in 1999 and spent three years in isolated hermitages in Malaysia and Thailand.
He has combined his love of Metta meditation with study of the Buddha's Teachings, and in 2001 published his first book, "A Swift Pair of Messengers", a compilation of Sutta passages on the theme of tranquillity and insight. He has since published many books. He studies and teaches Buddhist texts from comparative and historical perspectives.
In 2003, Bhante Sujato established Santi Forest Monastery in New South Wales and served as Abbot from 2003-2012. He has guided the development of suttacentral.net since its founding in 2004. SuttaCentral is a website hosting texts from Buddhism's most ancient period (the so-called pre-sectarian era) in more than 30 languages. He himself has just finished translating the four main Nikayas into English to be made available in the public domain.
As well as being a meditator and teacher, Bhante Sujato is a scholar of early Buddhism, with several books and essays of original and often groundbreaking research. He contributes to Buddhism in Australia through a wide variety of forums and organizations, including the Australian Sangha Association, Federation of Australian Buddhist Councils, Australian Partnership of Religious Organizations, Australian Association of Buddhist Councillors and Psychotherapists, Australasian Association of Buddhist Studies, and Australian Religious Response to Climate Change.
Raymond Lam, Senior Writer at Buddhistdoor Global, describes Bhante Sujato as 'one of the most incisive and courageous progressive thinkers in contemporary Western Buddhism' in an interview with Bhante Sujato.
Audio & Video
Books